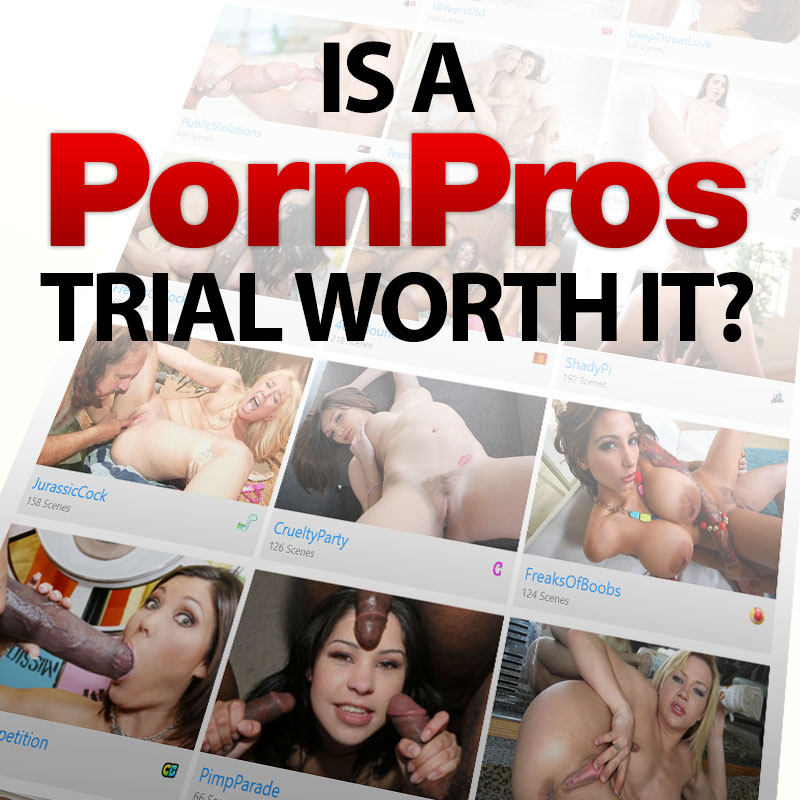 What is Porn Pros?
Porn Pros is a collection of 18 sites in one members' area. More than that, it's an award-winning company that has been producing high-quality hardcore for many years and showcases some of the most popular porn stars working today. Known for its hardcore, HD exclusives and its regular updates, it is also a fast-growing network that currently houses 3072 videos and updates at a rate of 30 new videos per month.
Like most adult sites, Porn Pros offers a range of membership options, starting with a trial for $1.00 for one full day of access, and ending with an annual membership at $119.40 for an entire year. Not everyone wants to leap straight into a full membership, so looking at what the tour pages offer is one way to start, but you can't always judge a book by its cover. Rather, you can't always judge a porn site by its tour.
The Porn Pros tour pages show you lots of hot girls taking lots of hard dicks in short, sample clips from some of the 3072 included videos. It also lets you see who is in the model index and tells you the number of scenes in each site. Everything looks good and glossy, but how do you know that the members' area will live up to the expectations of the tour? You take a trial membership, of course, but these kinds of membership aren't without their pitfalls.
We took a closer look at Porn Pros, and what you get for the trial membership in particular, and this is what we found.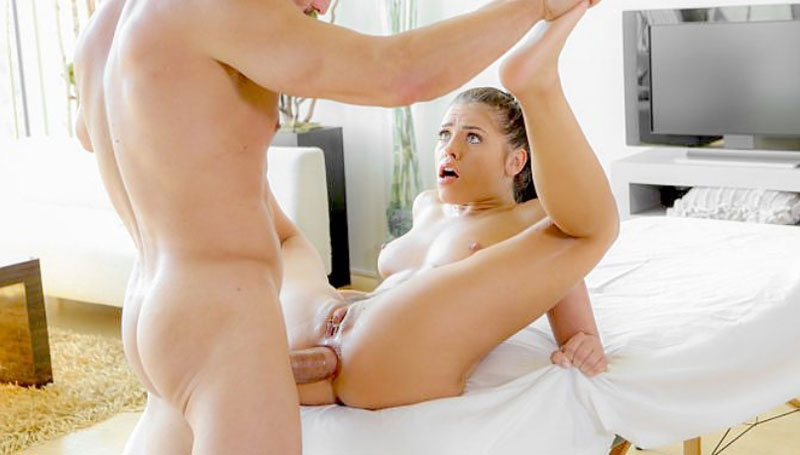 What's Inside the Porn Pros Members' Area?
First of all, you want to know what's inside the members' area, and that's a simple one to answer. Some of the best porn you're ever likely to see. However, you want more detail than that, so here it is.
You have a network of 18 sites here, including Real Ex Girlfriends, 18 Years Old, Deep Throat Love and Massage Creep. There are sites that cover interracial action and big dicks, such as Freaks of Cock, and there are those that give you BBWs and big-boobed babes such as 40 Oz Bounce. If you like European girls, you have Euro Humpers, and if you like teens, you've got Teen BFF. In other words, Porn Pros gives you lots of variety, and you're able to see the content either by site or as one large list of all 3072 videos.
The network comes with other advantages. It's mobile-compatible, easy to navigate and has interactive functions where you can rate videos and leave comments. There are good search and sort options, and there are no technical issues.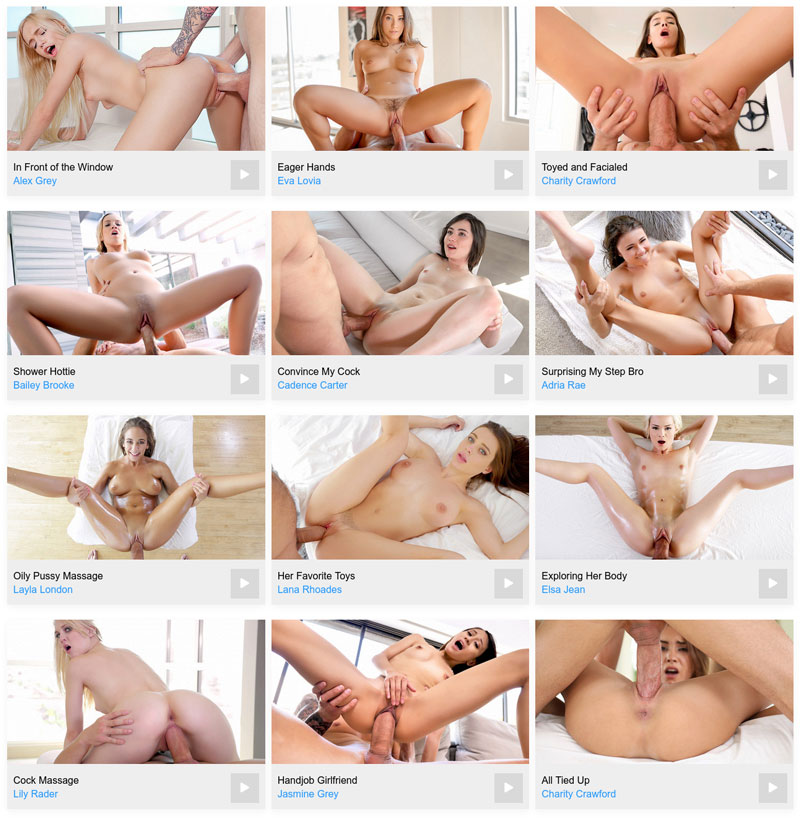 What Are People Saying About Porn Pros?
This, of course, is only my option, so here's what others are saying about Porn Pros.
Adult Reviews
98.2/100


"The Porn Pros network started life as a mix of more extreme and kinky reality porn sites with bondage, humiliation, massive cocks, massive cum shots and wild CFNM hardcore sex parties. But over the years it has changed and launched new sites. Today not all the sites update, but some are still updating on a regular basis."

That is valuable information, because upload dates are not posted on the tour, and you won't know how many new videos you will gain each week until you are a fully paid-up member.
Reviewed Porn
98.4/100


"It's tough for other sites to compete with the tons of porn, outstanding quality and luscious girls that Porn Pros has. Until another network can prove me otherwise, then I'm going to have to say that this is one of the best networks of hardcore porn on the Internet."
How Much Does it Cost to Join?
All well and good, but now we need to know what membership options are on offer. Porn Pros offers four, including the trial membership.
One-day trial, $1.00
One-month full membership is usually set at $29.95, but we have a discount at only $9.95
Three-months is currently set at $59.37
The annual membership is set at $119.40, but we have a 67% discount offer available
The original prices (before discounts) are pretty standard for a porn network, and due to the large amount of porn in the members' area, all sign-up options are reasonable even without our discounts.
However, you might be a sceptic, or unsure that what you're going to get for your $9.95 per month, and want to take a look inside. In that case, you take the trial membership.
What Does a Trial Membership Get You?
Simply put, you get a good look around the members' area for 24 hours. You're able to stream the scenes but not download them. You can see the images, but not save them, and you can check out the model index. If you fancy a free day of porn, then take the trial membership to Porn Pros, and you'll have a fun-filled day for sure. But…
'Beware the Greeks bearing gifts' as the saying goes. Porn Pros isn't Greek, as far as I know, but the trial membership is a gift because it is an honest one and lets you see exactly what full members get. (Some other sites only allow you to see a few things, and put padlock icons over just about everything.) What you need to be aware of is the time, because once your 24 hours are up, an automatic rebilling kicks in at a price that's even higher than the standard monthly rate; $39.94 per month recurring.
So, what do you do? You sign up for the trial and immediately cancel it. Or at least, you cancel it before your 24 hours run out, unless you want to stay as a member at $39.94 per month, which is still decent value, but not when you can get a monthly membership at a 67% discount with our offer.
To cancel the Porn Pros trial membership, you need to locate the (tiny) link at the bottom of the billing page. I've saved you the trouble, and here it is: https://cs.segpay.com/
That link leads you to Segpay support, where you will need two out of three things: your credit card details, your email address you issued when you signed up (always use a real one!) and/or your purchase ID. You will get a confirmation of cancellation email by return, so make sure you look in your spam folder.
Also, be aware that when you sign up for any membership at Porn Pros, there's a pre-selected option for you to join Bang.com on a trial basis at $1.00 for two days. This recurs at $39.97 per month unless you cancel it. You can opt out of this by using the drop-down box at the top of the payment page.

Is a Porn Pros Trial Worth It?
So, what's the conclusion we can draw from all of this? Trial memberships vary in what they offer you, but at Porn Pros, you get to see the entire members' area and stream the videos. You have 24 hours in which to cancel, and to do that, you need to have signed up with a valid email address and keep the confirmation email they send you after sign-up. If you don't cancel, things can get complicated and frustrating, but at least you would have seen what you could have had more access to.
Which is my point. Why go through the hassle of signing up, racing around the members' area, only streaming, and then stressing about how to cancel before you're whacked with a $39.94 monthly bill? Instead, you can sign up for a safer full mouth with complete access at only $9.95. Better still, with over 3072 movies to see and 18 sites to explore, you'll need more than 24 hours, so why not consider an annual membership and save 67% off the usual fee?
Is a Porn Pros trial worth it? Yes. It lets you see what you would have got had you taken a full membership straight off the bat. However, like many trial memberships, you can't save anything, and you only have a limited time to view and then find and go through the cancellation process.
Join Porn Pros
To access Porn Pros at a discount worth up to 67% off the membership price, use the link below:

Read Our Detailed


Porn Pros Review
OR
Buy Now


Click Here To Join & Save 67%