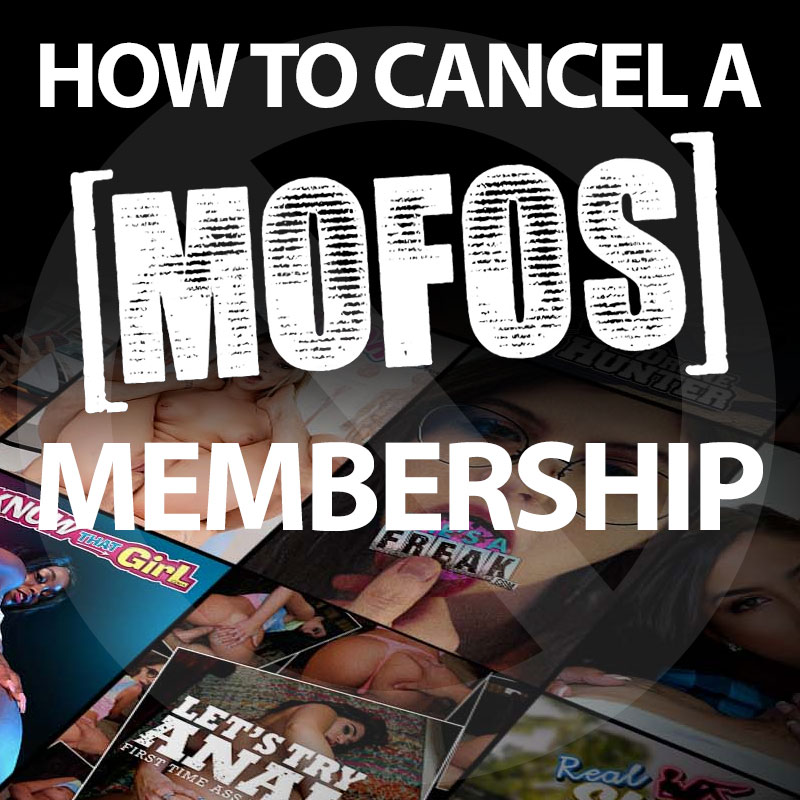 Mofos is a large network of porn sites, many of which are now archives. However, several of their premium sites continue to update, offering hardcore, anal, lesbian and reality-style sex videos that are made exclusively for the company. Founded in 2008 by Brazzers, it was set up to feature less well-known porn actresses in videos with more of a storyline than the main Brazzers content. It now holds over 3,900 videos featuring over 2,250 models and is controlled by Aylo, a company that owns many of the world's top porn sites. This makes it a reliable premium network to join, and its continuing updates mean it's a popular place for long-term memberships.
However, not everyone wants to stay a member of an adult site forever, and there comes a time when you decide to move on. That's when things can get messy, as not every site makes it easy for people to cancel their membership. Years ago, porn sites were notorious for offering cheap two or three-day trials that then became full memberships at a premium price. Unless you found a way to cancel your subscription before the end of the trial period, you were left with a monthly bill that was often higher than the standard membership fee. Punters understandably found this frustrating, and the practice was giving porn a bad name. Then, during the early 2000s, adult site owners took on more responsibility for making cancellation easier, and the situation improved. Mofos has always had a policy of treating its members fairly and has made its membership cancelation process simple.
So, when the time comes and you ask yourself, 'How do I cancel a Mofos membership?' here's all you have to do.
First, for any membership cancellation, you will need specific information to hand. Some cancellation processes ask for two of the following, and some ask for three, but the advice is to gather as much as you can because the more information you have, the quicker and easier will be the process. So, you need to find:
Your membership username
The email address you used when you signed up
Your password
Your confirmation ID number from your acceptance email (if you were sent one)
The details of the payment(s) on your credit card
Your credit card number
You don't have to have all of these to hand, but gather what you can and then head to the Mofos home page.
1. The Mofos Home Page
You don't even have to log in to cancel your Mofos membership. Head to the Mofos home page and scroll right down to the bottom. There, you find a link to the payment agent, Probiller.
2. Probiller
The Probiller home page answers a few questions about charges on your credit card, one of which is titled 'How do I cancel my account?' Their advice is simple; you send them an email, though you also have the option to call the helpline and use live online chat. Click the 'Contact Us' button at the top of the page and you will find the contact options of phone, chat, and email.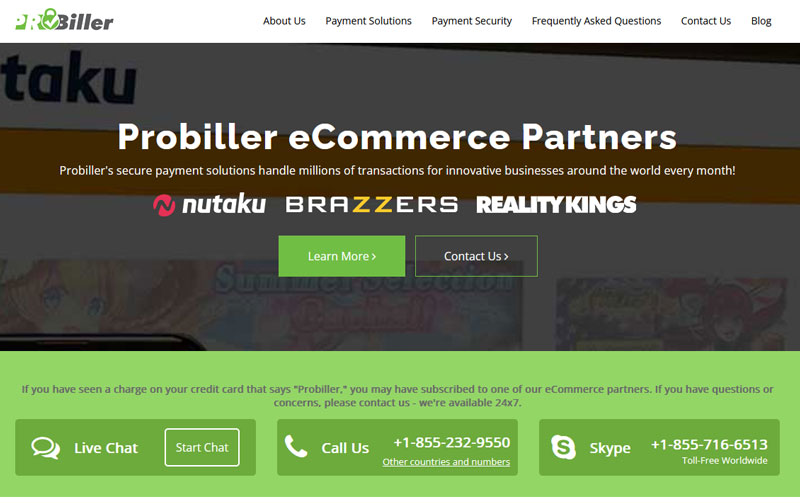 3. Send an Email
The email address you need is
[email protected]
and that's what comes up when you hit the 'send an email' button. You'll need to enter a subject heading, something like: Cancel my Mofos membership, and your username, and then you simply write a note asking for the team to end the membership. Remember to provide as much information as you can. Probiller tells us it is open 24/7, but it doesn't say exactly how long you expect to wait before you receive a reply.
3a. Call
Alternatively, you might want to leap onto the phone and call the help desk on +1-855-232-9550. This is a toll-free number (within the USA) and phone numbers for other countries are provided.
3b. Live Chat
Your third option is to click the Live Chat icon on the Probiller home page and open the Java script chat box. Again, have your details ready, and maybe write your opening lines before you open chat, then copy them in; that often saves time. Simply put you'd like to cancel your membership and here is my username and original email address. You should be chatting (typing) with someone within a minute or two depending on how busy the help center is.
Alternative to Probiller
Whichever process you use, you should find Probiller a fast and efficient service, as long as you have your membership details to hand. However, there are other routes you can take if you prefer.
Head to the Mofos support page (also found from their main home and other pages), and you find some alternative was to cancel. This page offers easy steps to cancel your membership:
Provide detailed information related to the status of your MOFOS membership.
Confirm details of a transaction when the description in your statement does not match the name of a product you recently purchased.
Provide you with professional advice in the event you have been a victim of fraud.
Provide solutions to any technical issues you may have encountered.
Mofos also offers a toll-free number +1- 877-271-6422 which, you will note, is different from the Probiller helpline number. Again, contact phone numbers are provided for customers in other countries. This toll-free chat service is open 24/7.
Mofos also gives you their Skype number in case you prefer to contact them that way, and they have a link to their own live chat too. You'll notice that this help system is supported by Probiller, so you're going to end up in the same place, but these are alternative ways to get there. A link on this main page 'Billing Questions and Cancelations' leads you to a page of FAQ which might also prove a good starting place if you have a query rather than a cancelation.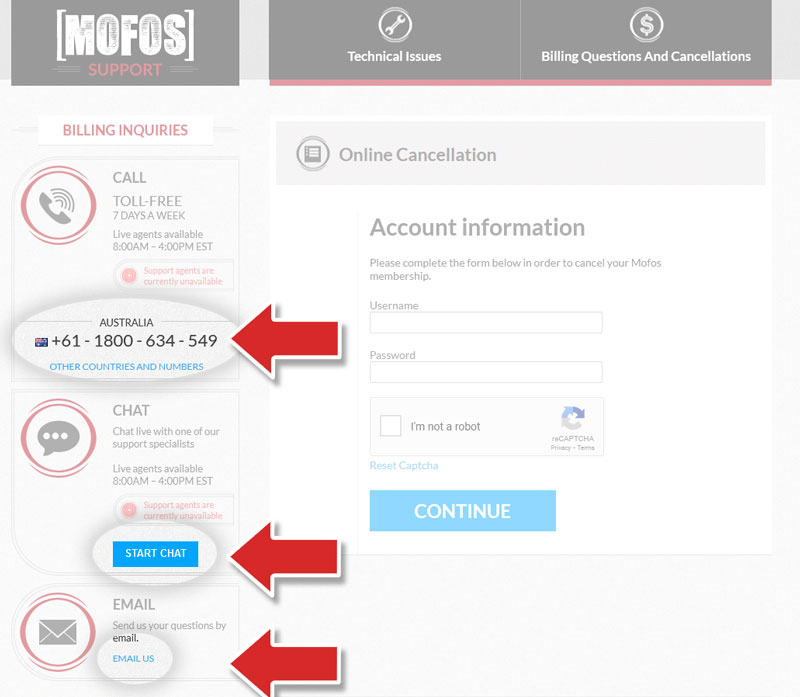 Key takeaways in canceling
Whenever you want to cancel an adult site membership and no matter what process you use to do so, you will need to have particular pieces of information to hand, so gather them first. At the very least, you will need your username which, if you've not written it down, might be in your browser's bank of remembered usernames. If not, you will need your credit card number, PayPal account, or the check number you originally sent to sign-up with.
Have as much as you can and use one of the processes above. All roads lead to Probiller when it comes to a Mofos membership cancellation, and all the numbers and links you need are provided above. However, if all else fails, you can use their social media links, listed below.
Probiller Social Media contacts
Mofos Links
What next?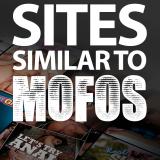 If you have enjoyed a Mofos membership and want to try something similar but different, who is out there to rival it. Here are five options for you to consider. Read More »